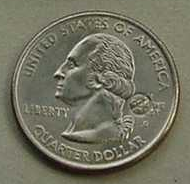 Click photo for full picture.
Stamp out "God" from US coins
Statement of Intent:
The author intends only such minimal action as will leave U.S. coins and bank notes entirely fit for re-issue. That is to say, their continued re-issue (circulation as legal tender) is inherent to the intent of said alteration.
The author neither intends nor perpetrates any fraud. That is to say, neither the weight nor the denomination, nor any marking whatsoever significant to a coin's valuation does he alter in the slightest.
The author strives ardently to effect only such alteration as is legal under his rightful exercise of Free Speech as guaranteed in the Constitution.
The author encourages all others that they likewise must hold themselves most severely to this same exact intent.
Explanation for the above:
Item one clarifies the author's action as wholly legal and not that prohibited under U.S. Code, Title 18, Sec. 333 of the United States Code as occurring with the intent to render it unfit for reissue.
Item two clarifies the author's action as wholly legal and not that prohibited under U.S. Code, Title 18, Sec. 331 of the United States Code as when done fraudulently.
Item three clarifies the issue further within a more exacting context.
Item four disassociates the author from any others who's intent may go beyond his own fully legal and Constitutionally guaranteed position.
---
How you too can stamp out "God" from U.S. coins:
First ask of yourself, "Just how offended am I with being forced to accept and distribute Judeo-Christian mantras every time I buy or sell?"

You must quantify this annoyance because to do something about it will require some each of time and money.

Money — a custom made, hardened steel, hand stamp is hardly cheap. But then it's only a one-time investment.
Time — a hand stamp will not apply itself to coins.

Here is your chance to stand up with honor against an ongoing indignity. But do you really care enough to strike a blow (actually quite a lot of blows) against it?
Basically, will you act? or simply continue to whine in vain?

Contact the author so as to join with others in the bulk purchase (for lower price) of these custom, hardened steel hand stamps.

Designed for imprinting steel, each one should last a lifetime of coins!
The cost is reduced since the author, in buying the first one (as pictured here), paid for the production tooling on any which follow.
Buy two! What more fitting Christmas gift for a valued non-Christian friend?

Examine and/or modify your own intent so as to be lawful under the U.S. Code, Title 18, Sec. 333.
Apply the stamp to dimes and quarters — carefully so as to neither diminish the coin's fitness for reissue nor to alter its markings for identification and valutation.
Lay the coin on a smooth, hard surface (steel is best) so that the coin will not be cupped when it is struck.
Center the custom, hardened steel hand stamp over the offending reference to God.
Hold the stamp near to the coin so that you may feel when it is aligned flush with the coin.
Strike the stamp a medium blow with a light hammer — so that the coin remains undamaged.

Make sure that the word "God" may still be read — but with the improvement of a super-imposed, international circle-and-slash sign to unmistakably negate the offending word's meaning.

Examine the coin to evaluate your technique.

Your clear objective is that the coin may retain its fitness for reissue.
You want it to circulate for as long and as widely as possible.
Thus your exercise of free speech may endure for as long (and hopefully longer!) than even the Bureau of Engraving and Printing did intend.
Derive satisfaction that your stamp on the coin will many, many, many times outlast the same symbol scribbled by hand in red ink on a dollar bill.
Think of how many times you have held a coin that was older than you?
This effort will surely outlast no few others that you might make!

Repeat from step three, ad infinitum. Five minutes effort is required for a ten-dollar roll of quarters.
Alternate method: Perform as above, except that instead of the none-too-cheap custom hand stamp, employ an ordinary hand stamp: the letter X from a set of 1/8 inch alphabetical hand stamps. Lay the X on its side so that it seems more a cross-out than the letter X. This alternate method, however, is not preferred since your exercise of free speech may be unclear. The super-imposed circle-and-slash is universally understood — none will mistake its meaning for some mere accident.
Hand Stamp Facts
The author's original custom, hardened, hand stamp cost $96 due to having to pay for tooling to be engraved by a company in the US.
Duplicates were then purchased in bulk at wholesale price breaks directly from the manufacturer at much reduced rates.
To advance this project, the author has for several years re-sold these stamps below cost, re-ordering as supplies ran short. Stock is growing once again short but attempts to re-order are now met with silence. Either they are out of business or they are simply declining the author's trade. If the latter, then that is their right. It becomes necessary to seek an alternate souce. Probably this will be overseas, likely in China. While that is being worked out, thos few which are left will continue to be sold at discount, but only to those who convince the stamp will be put to use.
Just as the author had begun to lose interest now that Bush has been out of office some years, then came Ted Cruze and Carly Fiorina on the future horizon. Needless to say, flagging interest is now renewed. An alternate source will be ardently sought.
Single stamps of the same-size, heavy duty, made-to-order, list for $42 from McMaster-Carr.
Alternately, 1/8th inch stamps for the letter X, as described in the alternate method may be gotten for about ten dollars, shipping included.
Hardware stores might sell whole alphabetic sets, but not of the same quality (hardness & durability) as the above industrial grade tools.
The author wishes to coordinate, at no profit (a slight loss, really) a bulk purchase of custom and letter-X stamps.

Some small loss is desireable, since it simplifies tax issues. The venture may be declared a hobby.

Who, exactly, is the author? I'm nobody, really. But if you like, please visit my home page at starling.us to find out.
---
Ideas on How to Most Widely Distribute Stamped Coins:
Buy gasoline ten dollars worth at a time and pay with a roll of quarters.
Cashiers at drive-up windows in fast food joints love to get rolls of quarters.
Buying soda in vending machines with godless quarters proves their fitness for reissue.
Many vending machines give back different quarters than those you've inserted when you press coin return. Use this to exchange godless quarters for godly ones to be stamped.
Should you ever tire of the hobby, sell the stamp at a discount to some fresh and eager recruit. These should not be hard to find...
---
Motivations of the author:
I am Buddhist not an atheist. To me therefor, this slogan goes beyond merely being incorrect. To me, rather, this slogan is morally wrong. It is wrong since Buddhist scripture clearly states the following.

The essential characteristic of all phenomena is that they are uncreated. That is to say, no external agency has created them. No creator god exists. It is unworthy to worship something which by definition cannot exist.
Gods are merely those who inhabit realms more fortunate than our own. As such, gods are lesser beings than Buddhas. This reason alone suffices to make it unworthy of us to worship any god.
Gods are mostly overwhelmed by selfish concerns. For this reason too it is unworthy to worship a god.
Gods, although eons longer-lived than humans, still are mortal the same as we. For this reason too it is unworthy to worship a god.
Gods, although vastly powerful, are still entirely fallible. For this reason too it is unworthy to worship a god.
Gods suffer delusions quite the same as humans. Some even believe that they have created all. And this is hubris, the worst sort of pride. For this reason, if no other, it is unworthy to worship a god.

The so-called national motto is in no way pan-religious, nor omni-religious nor in the least non-secular. Rather it strictly formulates a devotional prayer in the Middle Eastern tradition of Monotheistic Creationism. Thus it stands in absolute contrast to the Buddha's teaching.

Arguably it may be shown to likewise stand in utter contrast to other faiths: Animism, Paganism, Shinto and Wycca.

In bearing this slogan, all U.S. monies therefor equate to Judeo-Christian-Moslem prayer flags. And they being the only legal tender in these United States, I am therefor required to hand out monotheist prayers with every transaction I make. Why should I not object to this?
So I asked myself: what would a Jew, a Christian or a Moslem do in my stead? What should be the result were circumstances reversed? If instead of "In God We Trust" what would they consider to be a moral and civic obligation were all the monies to be embossed with "Om Tara" or "Om Mani Padme Hum"? I know very well what they'd do... For instance:

They'd do again what the Isrealites did wherever they found an emblem of the kindly goddess Ashera!
They'd do again what the Christians did to the Library of Alexandria and to every Pagan emblem in Europe!
They'd do again what the Moslems did to all the ground-level, base-relief carvings of ancient Egypt and to the historic Buddhist rock carvings in Afghanistan!
They'd work to damage and even destroy them. Of course!

Why should not the tables be turned, just so long as no living being comes to harm and no actual laws are broken? Why not indeed? So after due consideration I came to accept it as a moral obligation.
Further, it is even a patriotic duty. Laws have been enacted by Congress which establish Creationist Monotheism as a mandated religious practice. All who spend or handle money are required to participate. This is Constitutionally wrong. A patriotic counter statement is in order and long overdue. Just such a counter statement is what I make here.
It is my Constitutionally protected free speech which I exercise here. Further it is a patriotic and moral responsibility.
This action, by its effect, is no breach of Buddhist ethics since it brings no harm whatever to living beings.
Nor is this action according to the clear context in which it is written a breach of the United States Code.
---
Links
---
In closing — Let me pose a question to the monotheists: If your god is so almighty, why then nowadays does he require your puny efforts in his defense? Why nowadays are there no disasters of Biblical proportion? Why can your god no longer lift a finger on his own? Whither went his awesome might and terrible power?
I'll answer my own question... It is because your god was mortal, just as all gods are mortal. That is why. Your god has long since passed away and taken rebirth in another form. Personally, I suspect that your god is now working off many eons of negative karma in a hell realm for the outright genocides, the thousand-fold wholesale murders, and mass public infanticides which your Old Testament (the Books of Numbers, 1st & 2nd Kings, Nahum, etc.) attributes to him — unless, of course, all of it was nothing more than a myth to begin with.